Liam was too pooped so Erin didn't bring him over. Another day then ...

I went to the Dermatologist yesterday (Nov. 4th, I am actually writing this on the 5th).

If you can call surgery a great experience, this came as close to it as one can get. The nurses were great. The doctor was great. We had a grand time.

The Doctor was a fairly short, slight man. He is from NY/NJ area. He came to Texas for training and never went back. He said he enjoyed the friendly people. I believe his name was Dr. Postem.

Dr. Postem did a great job of explaining the procedure and didn't assume I was going to have it done. He carefully outlined the risks involved. Of course he'd closed the sale before he came into the room. You just don't let cancer sit on your face, ready to spread to the rest of your body at any moment.

As he was stitching my incision I asked the nurses (there were three) how he was doing, does he tie a good stitch? They laughed and said he did a wonderful job. There are inner stitches which will dissolve and the outer stitches which I go back next Friday to have removed. At that time I will also find out if he got it all and whether they would need to go back in.

When I got back to work, I asked my friend Charles to take a picture.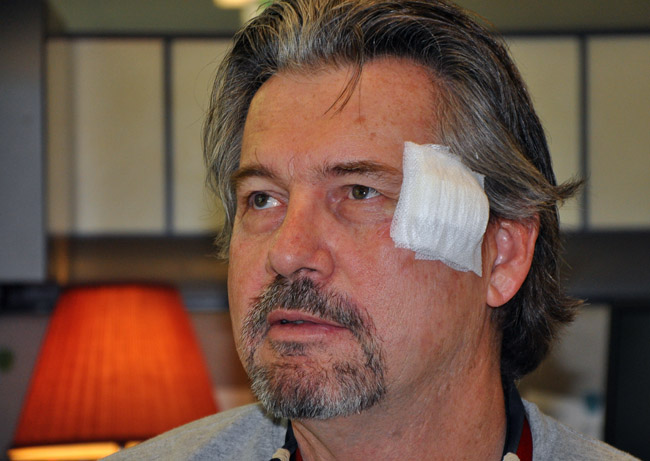 So, for now, I take my anti-biotics and wait. The bandage comes off on Sunday. I'll get to see the lovely incision. I'll take a pic LOL

More later.